Edited by John M. Bruce and Clyde Wilcox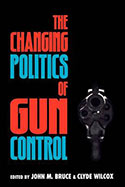 In recent years, political discourse about gun control and the Second Amendment has become increasingly volatile and this collection of original essays, The Changing Politics of Gun Control, by top scholars illuminates the various reasons why. Gun lobbies such as the National Rifle Association are more organized and aggressive and their issue agenda has evolved as new and more powerful weapons and militia appear. On the other side of the debate, the critical wounding of James Brady gave gun control advocates a visible martyr with strong ties to Republican conservatives. In sum, gun control and the right to bear arms have become hotly disputed issues where political alignments are constantly shifting. The contributors chart these changes and explore how Congress, the courts, the President, and individual states are currently addressing the issue of gun control. This book, which includes profiles and examinations of relevant interest groups, the gun control coalition, recent Supreme Court decisions, and public opinion surveys, will be of great interest to classes in political science, American government, law, and sociology.
REVIEW
Gun control is among the more difficult subjects to do research and write about in a dispassionate manner…To the editors' credit, the essays they have choosen are all heavily empirical and illuminate the changing politics of gun control in the United States. (Gregg Lee Carter H-Pol, July 1999 )
ABOUT THE AUTHOR
John M. Bruce is assistant professor of political science and director of the Social Science Research Laboratory at the University of Mississippi. Clyde Wilcox is professor of government at Georgetown University, and the author of many books, including God at the Grass Roots: The Christian Right in the 1996 Elections (Rowman & Littlefield), Second Coming: The New Christian Right in Virginia Politics (Johns Hopkins), with Mark Rozell, and Serious Money: Fundraising and Contributing in Presidential Nomination Campaigns (Cambridge), with Clifford Brown, Jr. and Lynda Powell.