History and Mission
Under various names, the teaching of Political Science has been an integral part of the mission of The University of Mississippi since the school opened its doors in 1848. The current Department of Political Science was founded in 1943, and the doctoral program was established in 1967.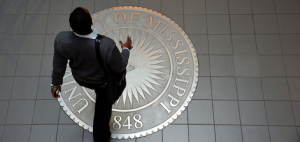 Through the College of Liberal Arts, the department offers programs leading to the Bachelor of Arts (B.A.) degree in the field of Political Science. The department, in association with the Graduate School, also offers graduate programs leading to the Master of Arts (M.A.) and Doctor of Philosophy (Ph.D) degrees in Political Science, with major concentrations in American politics, comparative politics, and international relations. Doctoral students can also seek a minor in political methodology.
In addition to the degree programs, the department also offers a minor concentration in Political Science and participates in the interdisciplinary major in International Studies offered by the Croft Institute.
The department's faculty include nationally-known scholars in the fields of American politics, comparative politics, international relations, and political methodology; current research by faculty and graduate students has been published in the major journals of the discipline. We also have modern research facilities for faculty and students.