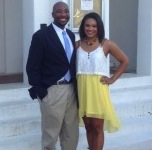 University of Mississippi graduate Daryl Porter Jr. has taken a step closer to his political goals by becoming the youngest elected councilman for his hometown of Summit.
As a student, the political science major was always involved, participating in College Democrats, One Mississippi and Sigma Pi fraternity at the University of Mississippi. And after going to Jackson for an internship in the Speaker of the House's office as a policy assistant, he felt he was ready to embark on a political career.
"I've always loved politics," said Porter, who graduated in May. "And I saw in the newspaper that a seat was available in Summit. You have to petition 50 signatures to run. They verified the signatures I collected and I started campaigning."
Beginning in March and going right up to the day of the election, Porter, along with several of his friends from UM, campaigned by "knocking on doors, going to different events, shaking hands to get to know people" and telling each about his goal to bring more revenue to Summit.
Porter participated in the first Summit Town Councilman Forum, where he communicated his platform, stating that would have an open-door policy and even giving his number and address to the audience.
"I'm there for the people, I'm their voice on the town council," he explained.
Since his win, Porter has been to only two board meetings, in July and August, but he has major plans to bring the town into the technological era. For example, the town had never had a website, but now has one, he said.
"I've been doing a lot of listening – seeing what has been and can be done," Porter said.
Porter attributes much of his success to his experience at the University of Mississippi, where he took various political science classes and learned about campaigns and funding.
"Daryl represents the best qualities that we so desperately need in politics today," said Cy Roseblatt, undergraduate academic adviser in the Department of Political Science. "He is bright, sincere, analytical and positive. If Daryl says that he will do something, he is going to do it. He exudes a quiet determination as he persists in his goal to serve others. What more can we ask of our public servants?"
"Ole Miss has a lot of great connections, if you network with the right people," Porter said. "Cy Rosenblatt, my adviser, was instrumental. He helped me with the internship. It was great to have him and other politicians talk about how to help my campaign and the town of Summit."
"I think what Mr. Porter has done here is very unusual," said John Bruce, UM chair and associate professor of political science. "There are a lot of people who will run for something – to do so the month after you graduate is unusual.
"He is a remarkable young man that impressed people here and in Jackson while working for the state government. That kind of work ethic and people skills will serve him well in his new position."
Politically, Porter looks up to District 38 state Sen. Kelvin Butler, for whom he served as a page in high school.
"Daryl has always loved the political process," Butler said. "We need more young people like him who are interested in politics and policy. I know he will do a great job because he listens, which is the most important attribute to in joining this political arena. He is always willing to learn and doesn't mind asking questions."
As far as his political aspirations, Porter said he sees this as the beginning, a "laying of the foundation" for the rest of his political career. His ultimate goal is to become a U.S. senator.
"I want to set a precedent for other people my age," he said. "You don't have to wait until you're 35 to start making a difference."
The son of Daryl Sr. and Emma Porter of Summit, Porter is a graduate of McComb High School.