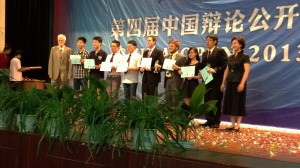 Taking first place at the China Open at Xi'an International Studies University were Austin "Woody" Wood, a senior political science major from Dallas, and  Isaac Lichlyter, a 2013 UM graduate and Croft International Studies scholar from Pelham, Ala. The two members of the  University of Mississippi forensics team and David Miller, a sophomore political science major from Clinton, represented UM at the contest.
The China Open is the International Debate Education Association's premier competition in China, aimed at contributing to thriving debate communities and encouraging interactions among debaters.
"All of the competitors in the final round were extremely polished, so I felt very honored to be chosen by the panel of judges," Lichlyter said. "Even more so because the panel included both Chinese and American judges, which meant our rhetoric had to be based in a multicultural understanding of the arguments. It was an incredible experience."
His teammate was equally enthusiastic about the victory. "It was unbelievable," Wood said. "Each round we advanced during the elimination rounds, my heart would start to beat a little faster until we were sitting on the auditorium stage during that final in front of hundreds of people from across the globe. That really was an eye-opening experience, and one I will cherish forever because it helped illuminate the vastness of our activity."
With 109 other schools in attendance, this was UM's first venture onto the international debate stage. Willamette University in Oregon is the driving force behind a series of regional tournaments throughout China in the fall semester that concludes with an international invitation to participate in the China Open. Tournament dates and sites were May 31-June 2 in Xi'an and June 7-9 in Beijing.
All debates are conducted in English. Most of the teams are either hybrid or "friendship" teams, in which a Mandarin student is paired with an English-speaking student. Miller was paired with Yiming Zhao, who goes by her nickname "Amy," a freshman English major and Mandarin Chinese national attending Xi'an Jiaotong University.
"What made this experience uniquely amazing was my partner," said Miller, who has competed in similar debates elsewhere. "Amy started debating only six months ago, and while she speaks English very well, it is still a work in progress. She was very, very impressive to compete with. It was amazing to see how someone from a different culture would approach the same problem and find the solution in a completely different way."
The topics for two of the elimination round debates – students debate a different topic every round during the preliminaries and elimination rounds – concerned China's presence in space and the need for international communities to focus on domestic rather than foreign policy issues.
UM Forensics began this year competing in the British Parliamentary Worlds Style debate competitions. BP Worlds Style is an internationally relevant debate style that utilizes the traditional skill-sets of logic, reasoning and research, but encourages an international view, using a principle-driven approach to creating and debating a motion.
"Hearing the announcement of our team winning first place was incredible," said Debra Yancy, assistant director of forensics and speech instructor who accompanied the team. "I do not usually tear up at a debate tournament, but for this one I did! I am so proud of all three of these young men. Also, I am proud to be a part of representing the University of Mississippi here in China."
Even better than winning, Wood said, was being able to hear the thoughts, thinking styles and perspectives of cultures he has had little chance to interact with on such an intellectual level.
"It felt amazing to win, but being able to be on a huge stage with debaters from Korea, Singapore and China was an experience that will trump most experiences I've had," Wood said. "I am so honored that the university has given me this opportunity and I know that it has helped me become not only a better debater, but more importantly a better human being."
Yancy thanked Chancellor Dan Jones; Provost Morris Stocks; Glenn Hopkins, dean of the College of Liberal Arts; and Bill Gottshall, director of the Lott Leadership Institute, for the opportunity to accompany the team to China for a once-in-a- lifetime experience. She also solely credited JoAnn Edwards, director of forensics, for leading the team's preparation for the event.
"British Parliamentary debate (or Worlds Style) is a new event for us," Yancy said. "In fact, we appear to be one of the few teams in the South competing in this style. Acting as a judge for this tournament, I gained valuable experience to bring back home."
News of the team's win has brought congratulations from across the Oxford campus.
"I am most excited for the team," said Edwards, also a speech instructor. "Our students continue to amaze me with their abilities to communicate effectively across cultural and academic audiences. We continue to be small, but mighty – honoring the power of the spoken word."
Top UM administrators were equally enthusiastic."I am so proud of our Ole Miss forensics team," Jones said. "They continue to excel at the highest level. They have moved from winning national competitions to winning at the international level. Way to go!"
"The performance by members of the University of Mississippi Forensics Team at the China Open is extraordinary," Hopkins said. "Their success in this international competition is testimony to their exceptional debating skills, as well as the expertise and dedication of their coaches and instructors."
For more information about the China Open, go to http://willamette.edu/cla/china_debate/events/upcoming/chinaopen.html.
By Edwin Smith