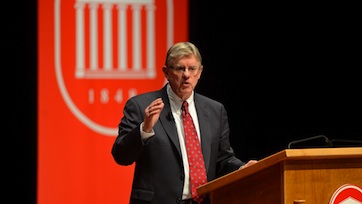 A beloved professor of political science retires this month, but his calendar will still be full for some time to come.
John Winkle, who joined the UM faculty in 1974, has left an indelible mark on the university during his 39-year career as both an academic and a motivator.
His colleague, John Bruce, chair and associate professor of political science, said that Winkle demonstrated the best practices of faculty across his career, all the while performing extensive service for the department, college and university.
"Without doubt or hesitation, I can say that he has left the largest footprint of any faculty member here in a long time," said Bruce, who has worked with Winkle for 17 years. "His students think the world of him and routinely mention him when contacted years after graduating from the university. Beyond the work dimension, John is a delightful person, and we have been privileged to call him a colleague and friend over the years."
Winkle was instrumental in the creation of the Sally McDonnell Barksdale Honors College and the honors program before it. In the summer of 1996, he wrote a statement proposing an academic vision for a new honors college, which would be part of a larger document that then-Chancellor Robert Khayat would take to a prospective donor.
"I thought about the need for a unique and transformative experience for each student in a new honors college and I used the professorial model of research, service and teaching," Winkle said. "I envisioned that each student would write and defend a capstone research thesis in the senior year. I thought it vital that each student understand the importance of giving back to the community in the form of required public service, and I also suggested that students instruct their peers by giving a couple of lectures in introductory classes in their disciplines."
Two of his three recommendations – the senior thesis and the public service – are components of the Honors College experience to this day.
Winkle also gave his ideas about what would become the Lott Leadership Institute.
"In 1997, I proposed to then-Chancellor Khayat that we consider creating a program in leadership studies," he said. "He sent Andy Mullins and me to visit colleges and universities whose programs we might model. We returned and submitted a proposal using the model of the Jepson School of Leadership Studies at the University of Richmond. Eventually, because of the chancellor's leadership, a proposed program became an institute."
Besides his academic work, Winkle has inspired countless students over the years. He is a recipient of the Elsie M. Hood Outstanding Teacher Award, as well as the Faculty Achievement award, the Random Acts of Kindness Award and the Frist Student Service Award. In 1998, the IHL presented him with the Harrison Governing Boards Award, given to one faculty member in the state system for contributions to higher education in Mississippi.
U.S. District Court Judge Michael Mills, a former student of Winkle's who lives in Oxford, called him a fine instructor.
"I worked with him later when I was in the Legislature and he served as adviser to several law-related committees, and we worked together on various pieces of legislation," said Mills, who took two constitutional law classes and a political science class from Winkle. "He is a good man and too young to retire. He must have a satisfied mind because he hasn't aged a day since the first day I met him."
Since 2003, Winkle has been the faculty adviser for the undergraduate mock trial program.
"I will most miss the classroom interaction and the exchange of ideas," he said. "I challenge my students to think critically. I tell my students that the answer to any question they ask should always prompt another question, for the essence of true learning, I believe, lies in the ability to ask the better question."
Winkle earned a bachelor's degree in history from Mercer University and a master's and Ph.D. in political science from Duke University. He had two visiting appointments at Emory University in 1991 and 1992; and at the United States Military Academy at West Point in 1999. His research interests are judicial behavior and judicial lobbying.
He has truly loved his time at the university.
"I have respected the learning process and have encouraged my students to do so. I have cared about my students and have treated them as individuals," he said.
Plans are under way for the John W. Winkle III Fund for Faculty Excellence.
Winkle's retirement won't leave him resting on his laurels, though. Next year, he plans on completing two ongoing research projects for publication.
"Thereafter, I hope to explore several possibilities, such as living abroad for six months, working for nonprofit groups, helping to launch honors programs elsewhere or becoming active in court reform projects," Winkle said.